The more I quilt, the more I become a fan of solids. A couple of perfectly matched solids can transform a my favorite fabric lines from ordinary to extraordinary. Just when I thought I couldn't do anything else with a certain line, I am amazed when I add a couple of coordinating solids.
Because of this, I have been adding to my stash pretty regularly when I see sales and the before Christmas sales at Hancock's didn't disappoint this year. Kona solids were 40% off and I loaded up on half yards of just about everything they had. I figure, you can never have too many solids! And this new stash is what I was able to use for my One Word block to make the rainbow colored stars, which I just love!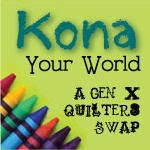 Speaking of Kona solids…I don't know if there is still time to sign up or not, but over on GenXQuilters' blog, Anne Marie is doing a Kona Your World Swap, where each participant sends 12 Fat Quarters (which is 3 yards total) of a Kona solid and then in return you get 12 different Fat Quarters in return – thus giving you more variety in your stash. How fun is that!?! I picked up my 3 yards during the sale so that I wouldn't have to pay full price this month. If you're interested in acquiring more solids, it might be worth checking out to see if there is still room in the swap.


So do you have a favorite Kona color that I should know about? My current favorites are Purple (the dark one pictured above), Clover (also pictured above), Khaki, and Taupe…but I do tend to use White a lot, too (I buy it by the bolt)!! :)